Versa Lift is the ultimate solution to your storage problems. Now you can keep your home and garage neat by sending storage items into the attic and out of sight with push-button ease! You can stack it, rack it, or hand it from the ceiling, but your garage will still look and feel cluttered!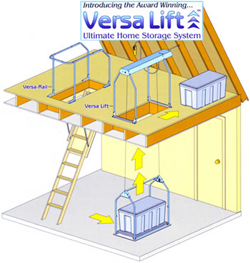 Attic Lift
Only the Versa Lift will let you store everything out of sight and bring it back in seconds whenever you need it! Other storage systems can't give you easy access to hidden attic storage space. Only the Versa Lift can!
Versa Lift eliminates the danger of carrying storage items up steep, shaky ladders. You need only press a switch on the hand-held remote to magically transport heavy loads either to or from the attic. Vera Lift actually makes organizing and storage easy.
The Versa Lift is also perfect for homes with elevated living quarters, such as split-levels, and homes with basement living rooms. The Versa Lift eliminates the constant need to carry groceries, laundry, tools, portable appliances, firewood and other heavy items up and down your stairs!